Dallmayr Coffee from Germany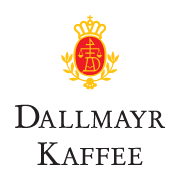 The history of this Munich-based coffee producer can be traced back three centuries, and its quality coffee products have always been a staple on the beverage lists of Munich citizens. The beans are carefully selected from the world's prime coffee-producing areas and then roasted at Dallmayr's facility in Giesing. Noteworthy varieties include the Sigri Estate arabica roast from Papua New Guinea and San Sebastian from the highlands of Guatemala. Today, the company has grown to become an internationally well-known manufacturer of quality coffee, and since 1930 has owned and operated a cafe, housed in a historic building in Munich where freshly roasted coffee can be enjoyed with salads and small appetizers or chocolate truffles and other pastries.
Premium quality in every bean.
TOP