Tea Pots and Water Kettles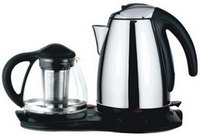 Cuda Kitchen's New Electric and stove Water kettles are the best way to boil water for home and office use. Heat water for dry soup mix, pasta, blanching vegetables, hot cereal, hot beverages, Jell-O. Additional features include stay cool handle, drip free pouring spout, maximum fill indicator.
Our tea pots and tea makers allow you to make great tasting tea at home, whether you brew with tea bags or want a teapot with a built in infuser to use with loose leaf teas. Plus, they are as attractive as they are functional.
The Chinese have understood the health benefits and longevity associated with drinking tea for several millenia; it is a part of daily life in England and much of Europe; now you can enjoy a soothing cup of tea in your own home with one of our quality tea makers.
| | |
| --- | --- |
| | |
---
1.0 liter Electric Kettle with Auto Shutoff - White | 1.7 Liter Cordless Kettle with Adjustable Temperature - Stainless Steel | 1.8 Liter Cordless Electric Kettle - Black | 10 Cup Stainless Steel Kettle | 10 Cup Stainless Steel Kettle with Boil-Dry Protection | 2-Cup Chrome Tea Pot | 4-Cup Chrome Tea Pot | Aroma 7-Cup Electric Water Kettle Black | Aroma 7-Cup Electric Water Kettle Blue | Aroma 7-Cup Electric Water Kettle Red | Aroma 7-Cup Electric Water Kettle Stainless Steel | Aroma 7-Cup Electric Water Kettle White | Aroma 7-Cups Electric Water Kettle Stainless Steel | Aroma Awk-290sbd 6-cup Water Kettle | Aroma Clar-i-Tea Electric Water Kettle & Tea Brewer | Aroma Gourmet 6-Cup Digital Electric Water Kettle Stainless Steel | Aroma Gourmet Series 6-Cup Digital Electric Water Kettle Black | Aroma Hot H20 X-Press™ Water Kettle | Aroma Hot Water Central | Aroma Hot Water Central 4-Quart Air Pot-Water Heater | Aroma Hot Water Central 4-Quart Air Pots-Water Heater | Aroma Pasta Plus™ Noodle Cooker & Water Kettle | Better Chef IM-149S Stainless Cordless Electric Kettle | Black & Decker Jkc650 Cordless Kettle | Bunn Tb3q Iced Tea Brewer | Ensemble 1.7 L Cord Free Pouring Kettle | Hamilton Beach 2 Qt Iced Tea Maker | Iced Tea Brewer - Black | Magefesa 2-1-Quart Acacia Stainless Steel Tea Kettle Blue | Magefesa 2-1-Quart Acacia Stainless Steel Tea Kettle Red | Magefesa 2-1-Quart Sabal Stainless Steel Tea Kettle Blue | Magefesa 2-1-Quart Sabal Stainless Steel Tea Kettle Red | Mr. Coffee BVST-TM23 2.5-Quart Iced Tea Maker | Mr. Coffee SEK17B 1.7-Liter Electric Kettle | Mr. Coffee TM-75 Iced Tea Maker | One All Wk112bl4 12-cup Stove Top Whistling Tea Kettle | Oster 5965-000-000 1.5-Liter Electric Kettle | Paula Deen Stainless-Steel 2-Quart Teakettle with Copper Bottom | Primula 28 Ounce Cast Iron Teapot Brown | Primula 40 Ounce Cast Iron Teapot Black | Proctor-Silex 1-7 Liter Cordless Kettle Black | Proctor-Silex Cordless Electric Kettle Black | Reston Lloyd Non-Whistling Tea Kettles 2 Qt - Additional Colors | Reston Lloyd Whistling Stainless Steel Tea Kettles 2 Qt - Additional Colors | Reston Lloyd Whistling Tea Kettles w-Glass Lid 2-5 Qt - Additional Colors | Russell Hobbs Rh13552 1.7 L Ss Kettle | Sunbeam 006131-000-000 Hot Shot Hot Water Dispenser (Black) | Sunbeam 006170-000-000 Hot Shot Hot Water Dispenser (White) | T-fal Bf6520004 Vitesse Kettle 1.7 Liter
TOP