Friele Coffee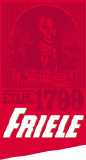 In 1799 Herman Friele bought his first coffee consignment and shipped it back to Bergen. Even today, Friele travels all over the world in order to taste coffee and choose the best batches. Kaffehuset Friele is today, Norway's leading coffee roaster, with a market share of about 32% (value). There are four other major players in the Norwegian coffee market, Joh. Johannson with 29%, Nestle with 16%, COOP with 15% and Kjeldsberg with a market share of 7%. Our largest coffee brand, Friele Frokost kaffe is also Norway's leading brand and has a market share of 29%(volume). We also have the brands Krone, Cafe Noir and Spesialkaffe (speciality coffee). Kaffehuset Friele offers products to both the food service segment (20%) and the retail trade (80%).
Chairman Herman Friele:
"The secret behind good coffee is to find the right blend, and then roasting the beans just long enough, at the right temperature, so that the aroma and taste comes to its full potential." Norwegian's drink a lot of coffee. Norway, along with the other Scandinavian countries is among the countries in the world that drink the most coffee. After tap water, coffee is the drink that is consumed the most, an average Norwegian drinks about 155 litres of coffee per year. At Friele we use only the best coffee beans from carefully selected coffee farms. In cooperation with these farms we have found green coffee that safeguards the distinct and full bodied taste our blend is known for. Our goal is to create the perfect "coffee moment" for as many as possible. We use the best methods and the most modern equipment in the manufacturing process from roasting to grinding. Kaffehuset Friele is known as Norway's coffee authority.
The secret behind good coffee is the right blend.
| | |
| --- | --- |
| | |
TOP