Hediard Coffee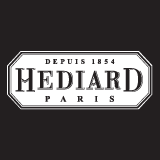 The story of Hediard begins with a man named Ferdinand Hediard, who since the middle of the 19th century was a forerunner in the discovery of exotic products for the Parisian market, after coming across them in Le Harve harbor were he went as a companion of the Tour de France.
Selling delicatessen foods (jams, spices, vinegars, oils, condiments, mustards, biscuits, tea coffee, etc.) is still one of HEDIARD's major activities today. The company strives to preserve that vacation while maintaining its traditional production methods. Each of HEDIARD's 6,000 products symbolizes Quality, Reliability, and Tradition.
In 2007, HEDIARD was awarded the certification of Enterprise du Patrimoine Vivant (living heritage company) by Renaud Dutreil, French Minister for Small and Medium-size Business. This new official certification aims to promote the development of business with an economic heritage consisting in particular in rare, renowned or ancestral know-how, resting on the merit of traditional techniques. This certification is also aimed at fostering recognition of the brand both domestically and internationally, while promoting its growth and innovation capacity.
The force of character and the secret of a noble bean and perfect roasting.
| | |
| --- | --- |
| | |
TOP